Will a Skip Ruin My Driveway?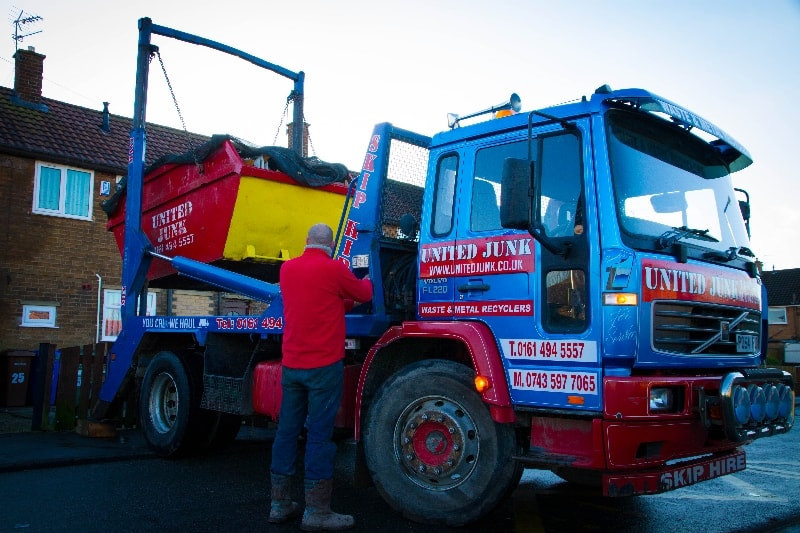 Skips come in all different shapes and sizes and the thought of putting something of that size on your well-kept driveway might make you a bit nervous - rest assured nothing is safer. In this article, we answer the question 'will a skip ruin my driveway?'
Will It Ruin My Driveway?
At United Junk, we take great pride and care when placing our skips on your driveway. We always ensure that when unloading it from the back of the lorry we minimise any movement to avoid scuffing, scratching or chipping your driveway.
If need be, we will set the skip on planks of wood to stop that from happening. However, if you don't want your driveway damaged, we will advise you on an alternative spot.
Finding the Best Spot
Before you even think of hiring a skip give some thought as to where you would like it placed. If you haven't had the time or simply forget then the skip hire driver can offer some advice as to where the best place for it will be.
At United Junk, we can place the skip in an area that you might have thought inaccessible given that the loader has the capability to lift it over walls or hedges to a height of around 3ft.
Driveway Entrances
Skip hire lorries are not small and as such it can sometimes be difficult when manoeuvring them into tight spaces. Ideally, the lorry needs a minimum of 9-10 feet width on a driveway for the lorry to get through without causing any damage.
If you have any concerns about putting a skip on your driveway then let us know and we can look at alternative logistical solutions.
If you don't want the skip on your driveway and there are no other alternative locations on your property then you may need to place it on the road.
However, you should be aware that you will need a relevant permit from the local council and precautions such as cones and lights so that it doesn't cause a hazard to pedestrians or motorists. One of the United Junk team can help advise you on the process needed to get a permit.
Speak to The Experts
If you have any questions about the use of a skip or need to hire one, then get in touch with the team here at United Junk. We have a wide range of skips in different sizes and all perfectly suited for the task at hand. We look forward to hearing from you!