Skip Hire Manchester/Stockport/Salford FAQ's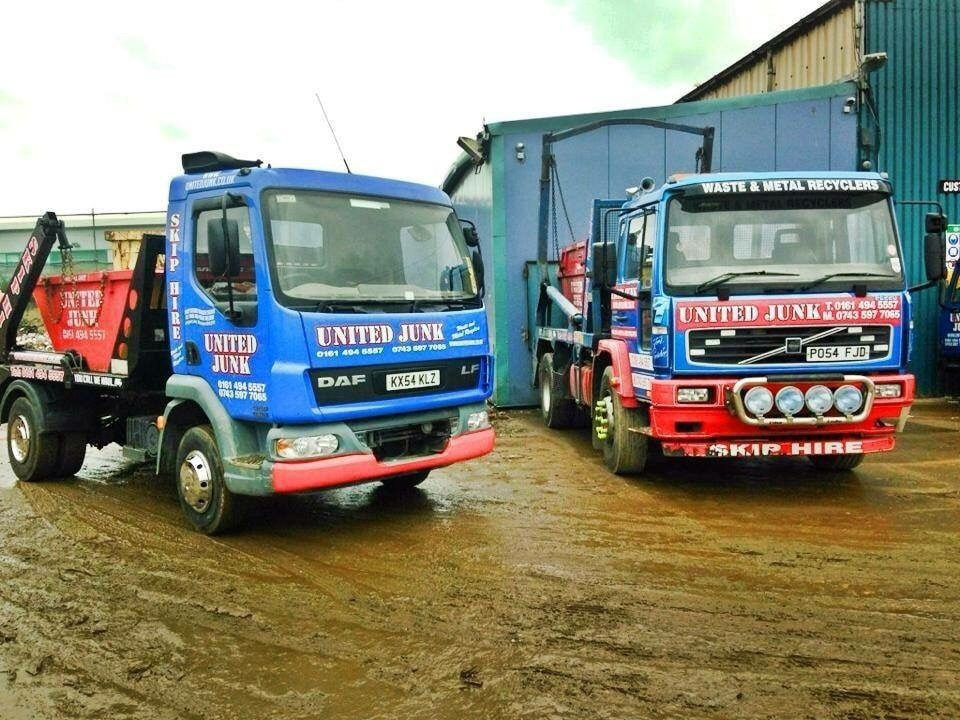 Welcome to united junk. The best option for skip hire across Greater Manchester, Stockport and Salford. United Junk has built a reputation on trust, low prices & high standards, and more importantly; reliability – We will not be beaten on service! Our friendly staff will be able to help you with any enquiries you have about your waste disposal needs. Fill in our simple contact form and you will receive a call/email back within minutes.
We have compiled a list of the most popular questions that are asked within this industry, we hope that these answers and questions you may or may not have known about.
Where Are You Based?
Our Waste Treatment centre is located in Bredbury in Stockport. It is ideally located to enable us to be able to get to all sorts of places during the day fast and efficiently to provide you with the best service possible. This is where we also bring your waste back to to process it for the best possible recycling result. Our address is Lingard Ln, Bredbury Park Industrial Estate, Bredbury, Stockport SK6 2RN
To find out more about our opening times and prices, navigate over to our contact page
How To Get A Skip Permit?
Having the option to put a skip on the road is a convenient way of saving space for you to have more room to move your waste about and outside. This is great for people with limited access or limited space. A few things to be considered is if the skip requires lights to be on the road, does it require business name and telephone number, is it in good condition, is it blocking any drains and many more, these need to be made aware of when getting the permit for your skip.
We generally ask you to be aware that getting a permit can take roughly 5-7 days so this needs to be factored in when storing the skip on the road.
For the complete list of guidelines you can contact us or navigate to the GOV.uk website
How Much Room Do I Need For The Truck?
Because our skips come in many different sizes the amount of vavigatable room required varies, you can contact us for more information regarding specific enquiries, we usually require a minimum of a 3m clearance width for our lorry access we can put it down into a smaller space owing to our lifting mechanism.
How Big Does My Driveway Need To Be For The Skip?
We can place our many different sized skips onto your driveway providing we have the room to navigate. Most driveways can accommodate our range of ski
Can A Skip Go Into My Garden?
Of Course! This can easily be sorted but again this is under the assumption that there is access to the garden that also has room for our lory to navigate into. Skips that are to be placed down on soft or unstable ground so a disclaimer tends to be asked to be signed so you are aware that an 8 tonne loaded skip can cause damage if the location of the skip has not been taken into consideration.
Contact Us!
If you have any questions about the use of a skip or need to hire one, then get in touch with the team here at United Junk. We have a wide range of skips in different sizes, and all perfectly suited for the task at hand. We look forward to hearing from you!